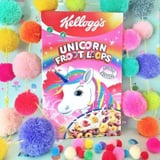 In the aftermath of the full-fledged unicorn craze, one recent food product is jumping on the bandwagon in an adorable way, albeit a little late. In Germany, Kellogg's released limited-edition Unicorn Froot Loops, with individual cereal pieces coming in pastel purple, pink, and yellow.
We first spotted the fabulous cereal on the Instagram account Candy Hunting. Though the Unicorn Froot Loops are decidedly new, they are already a big hit with local foodies and unicorn enthusiasts on Instagram. According to some initial reviews, the cereal tastes less fruity than the original flavor. Instead, the taste more closely resembles Kellogg's Honey Loops with slight hints of citrus.
As of right now, it seems as though the trendy product will not make its way to the United States. We have, however, reached out to Kellogg's and will update this story should that change. In the meantime, peruse pictures of the epic and Instagram-ready box.