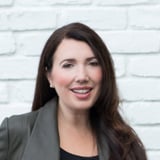 Fran Hauser has a résumé that draws eyes instantly. As a startup investor, media executive, and vocal advocate for women, her success is undeniable and shows through the 15 years she's dedicated to improving digital media and creating highly influential digital publications. Hauser is a champion for women, and the representation of female founders and investors in her companies stands out.
Once she built up her digital empires, she used her prevailing presence to publicly speak about career building, digital media insight, and the importance of investing in women by women. When Fran isn't sharing knowledge in Forbes and on CNBC's Power Pitch, she's dedicating her time to being a special advisor to Girl Be Heard and working with other outstanding organizations, such as 92Y Women inPower, Rent the Runway's Project Entrepreneur, WomenOne, and GlobalGiving.
If that somehow isn't impressive enough, she has published her wisdom for public consumption in her highly anticipated book, The Myth of the Nice Girl. Hauser embodies Power Your Happy values through her mutual values of working hard and playing nice, and she inspires women to lead with kindness and strength. To learn more about Fran, check out her Power Your Happy Q&A!